Dimensions: This paper was designed to be used under a chair rail as a dado or simply as a wide frieze anywhere on your wall, though it also could be produced as fill paper (repeat 12" wide on a 32" dado). Borders also available. - (custom widths available for a small additional fee - please inquire)

Borders are sold by the roll in 10' and 15' lengths. Borders, friezes and wainscotings can also be printed on a variety of fabrics so you can incorporate these designs into your window treatments and lightweight upholstery needs.

Borders
5 1/4" x10' roll ...$36 US
5 1/4" x 15' roll ...$54 US
8" x10' roll ...$54 US
8" x 15' roll ...$80 US

Friezes and Wainscotings are sold by the linear yard.

18" frieze ...$39/lin yd US

22" frieze ...$47.00/lin yd US

27" wainscoting ...$55/lin yd US

32" wainscoting ...$65/lin yd US

Fill paper (full wall coverings) ... based on 20 1/2" wide papers, $110 for an 8' roll, $140 for a 10' rolls - other lengths available upon request

More color-ways on the drawing table! Suggestions welcome!

Don't forget coordinating wallpaper and fabric!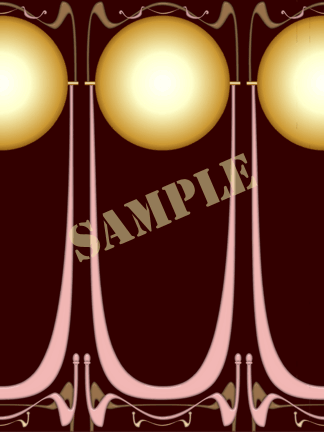 Cocoa
The background is a deep brown - the accents are a gentle pale, pink taupe and warm gold, inspired by a Valentine's Day of chocolate, roses and jewelry.