The Egyptian Elements wallcoverings collection offers several designs in several coordinating Color Series. Inspired from carvings and figures found in ancient Egyptian tombs and palaces.
Click on a thumbnail to view the available Color Series and sizes offered. If you need a width that we haven't listed, please let us know and we can discuss customizing the design.
Hathor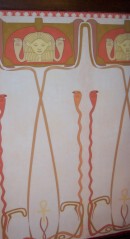 Nile River

Nile River Shower Curtain

Nile River frieze, fill paper, wainscoting, & blue cotton velvet drapes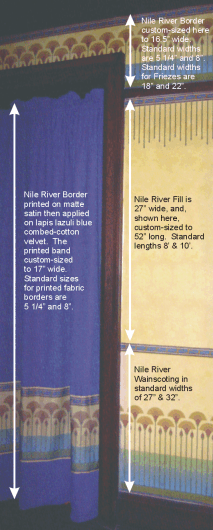 Look at our lampshades!
Borders
5 1/4" x10' roll ...$36 US
5 1/4" x 15' roll ...$54 US
8" x10' roll ...$54 US
8" x 15' roll ...$80 US

Friezes and Wainscotings are sold by the linear yard.
18" frieze ...$39/lin yd US
22" frieze ...$47.00/lin yd US
27" wainscoting ...$55/lin yd US
32" wainscoting ...$65/lin yd US

Fill paper (full wall coverings) ... based on 20 1/2" wide papers, $110 for an 8' roll, $140 for a 10' rolls - other lengths available upon request.
Pillows, throws, shower curtains, lampshades, and sconce shades also available.